P

R

F

C

is a Training and Consulting company
focusing on Modeling
Our specialty is MBSE (Model Based Systems Engineering):
Modeling complex systems with a Systems Engineering approach based on the ARCADIA method, and adapted to the customer context
Tooling using all the capabilities of the Capella open–source solution and ecosystem.

PRFC was created by Pascal Roques, senior consultant and trainer with over 30 years of experience, author of several books on modeling with UML and SysML, as well as the first book on Capella.
After a first experience of engineering studies at CSEE, Pascal Roques joined the Verilog company in Toulouse at the beginning of 1986. He worked there as a consultant / trainer for almost ten years on the ASA modeling tool (based on on SADT), then on an OMT modeling tool. Pascal Roques then founded the Valtech agency in Toulouse in mid 1995, where he continued to advise and train on modeling, with OMT then UML. In 2001, he joined the Valtech Training subsidiary, where he was responsible for many years of the modeling part of the training catalog, while facilitating more than 150 UML and SysML training courses in France and abroad.
From 2009 to 2010 Pascal Roques was in charge of consulting and training on UML / SysML modeling at A2-Artal Innovation. Since the beginning of 2011, he has been an independent consultant and sole manager of PRFC SARL, specializing in MBSE. Pascal Roques is co-founder of theSysML France association, and the author of the first book in French on SysML. He has been a regular trainer for Thales University on Systems Modeling with the ARCADIA method and the Capella tool for more than 10 years. Since 2008, he has led more than 150 MBSE training courses in France and abroad for more than 2,000 engineers.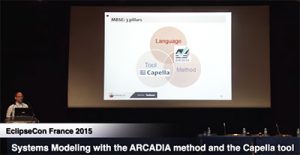 To find out more, don't hesitate to subscribe to our YouTube channel on MBSE!
Technical skills
Methods : 
Arcadia, MBSE, INCOSE Handbook, Scrum, RUP, SADT
Modeling languages: 
ArcML, SysML, UML, OMT, SADT, IDEF0
Tools: 
Capella, Cameo Systems Modeler, MagicDraw, Enterprise Architect, PlantUML, Rational Rose, etc.
Pascal Roques is certified on Systems Eng. by INCOSE (ASEP), on UML2 and SysML by OMG, and on Requirements by IREB :