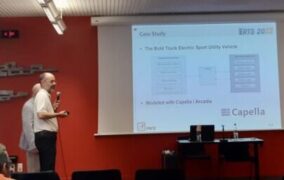 Conferences
Pascal Roques regularly participates in conferences in France and abroad. He has made numerous presentations on MBSE for over 20 years …
He has also published several articles in specialized magazines or blogs.
You will find below a non-exhaustive list of main conferences where PRFC intervened as well as links to articles written by Pascal Roques.
June 2022 –
ERTS2 2022 (Toulouse)
STPA Analysis of Automotive Safety Using Arcadia and Capella (with D. Hetherington -Asatte Press)
October 2018 – Models 2018 (Copenhagen)
MBSE Adoption Challenges – Focus on Arcadia / Capella
March 2018 – CapellaDay 2018 (Stuttgart)
Guide to Arcadia and Capella successful adoption
January 2018 – ERTS2 2018 (Toulouse)
Capella to SysML Bridge: a Tooled-up Methodology for MBSE Interoperability
(with B. Viaud, Artal)
September 2017 – EclipseDay Milano
Capella: the Polarsys solution for MBSE
Juin 2017 – CapellaDay @EclipseCon 2017 (Toulouse)
Why are Arcadia and Capella relevant for MBSE?
October 2016 – Models 2016 (St-Malo)
Tutorial : ARCADIA in a Nutshell
June 2016 – EclipseCon 2016 (Toulouse)
Hands-On Systems Modeling with ARCADIA / Capella
January 2016 – ERTS2 2016 (Toulouse)
MBSE with the ARCADIA Method and the Capella Tool
August 2015 – Blog de Crescendo Technologies (with Joseph Aracic)
Select and deploy a conceptual modelling language. Some Keys.
June 2015 – EclipseCon 2015 (Toulouse)
Systems Modeling with the ARCADIA method and the Capella tool
April 2015 – RE Magazine IREB (Issue 2015-02)
Modeling Requirements with SysML
May 2014 – No Magic World Conference (Allen – USA)
November 2013 – ICSSEA'13 (Paris)
July 2013 – INCOSE Webinar N°54
Requirements Modeling with SysML
April 2013 – IEEE SysCon 2013 (Orlando – USA)
Tutorial : Requirements Modeling with SysML
February 2013 – No Magic World Conference (Allen – USA)
SysML Adoption in France: Industry Examples
March 2012 – IEEE SysCon 2012 (Vancouver – Canada)
October 2011 – MODELS 2011 (Wellington – NZ)