Capella 5.0 in action (4d) – **Remote** (English!)
Systems engineers have been making use of modeling techniques for a long time. Based on both Functional Analysis and the SysML language, Arcadia (Architecture Analysis and Design Integrated Approach) is a model-based engineering method aimed at defining and validating the architecture of complex systems. After having tested the method internally, and developed an accompanying workbench, Thales has decided to make it public through the Capella tool (inside the Eclipse community).
This in-depth practical training will enable you to discover the ins and outs of the Arcadia (Architecture Analysis and Design Integrated Approach) method and its associated modeling language. We will mostly focus on the benefits of a workbench adapted to the method, through a complete case study performed with the open source Capella 5.0 tool. A language, an approach, a tool: these are the three pillars needed for the success of the Model Based Systems Engineering (MBSE).
Duration:
4 days: 8 sessions of 3.5h (9:30-13:00; 14:00-17:30 CET/GMT+1) 
spread on two consecutive weeks: February 17-18 and 24-25
Bonus: 1 hour private eCoaching with the trainer to discuss questions coming up after the training!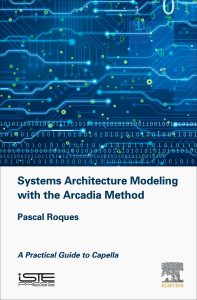 Audience:
Project managers, architects, system engineers,
wishing to learn how to use efficiently the Capella tool
Prerequisite:
Experience in Systems Engineering
Teaching Method:
Theoretical presentation with examples (20%)
Complete Case Study realized with Capella 5.0 (80%)
Program:
Introduction
Reminders on Systems Engineering
What is a Model?
MBSE
Arcadia/Capella Principles
Arcadia 5 Architecture Levels
Main Concepts and Diagrams
Main Tool Features
Arcadia/Capella in Action 
Case Study Presentation
Operational Analysis
Case Study #1 with Capella 5.0
    OAIB, OAB, OEBD, etc
System Analysis
Case Study #2 with Capella 5.0
    SAB, SDFB, SFCD, SFBD, etc

Case Study #3 with Capella 5.0
    SES, SMCB, SMSM, SCDB, etc
Logical Architecture
Case Study #4 with Capella 5.0
    LAB, LES, LMSM, etc.
    System-Subsystem Transition

Physical Architecture
Case Study #5 with Capella 5.0
    PAB, PDFB, PFCD, etc
Complements (add-ons, etc.)
Conclusion
Summary
Implementation tips